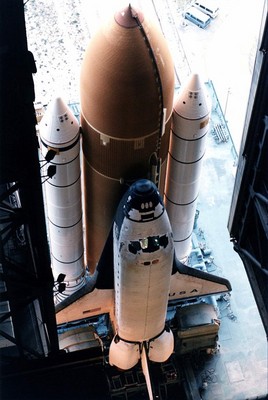 As I have read on the web, Discovery seems to have one more contingency day left in its launch schedule. The wizards in the VAB seem to have done real magic. Originally, the rollout to the pad was scheduled for Sunday. Now, it seems to be Saturday, September 29th at 8pm ED. Well, that's maybe half a day of contingency if I think more about it. Extra contingency time is very desirable, because four days were lost when a damage on a landing gear strut was found and needed to be repaired. Even though the repair was ultra-fast, almost all remaining contingency time was used up. Now, with the excellent processing flow, NASA keeps again up with it. My hope is that some other activities will also be earlier than planned, leaving even more contingency. As we all know, spaceflight is inherently complex and there is a good chance that extra contingency (spare) time is needed at some stage.

For those interested: I assume that NASA TV carries some video footage from the VAB rollout.

Its very promising to see work progressing so well. To me, it looks more and more like the first launch attempt is indeed on the October, 23rd. Let's hope for the best, including good weather. I'll keep you updated.


News Source: http://www.raumfahrer.net/forum/cgi-bin/YaBB.pl?num=1173608035/480 (german!)
Picture: VAB rollout during the STS-83 mission (this is NOT STS-120!), Photo Credit: NASA
Do you like what you read? Then subscribe to my blog by Email!