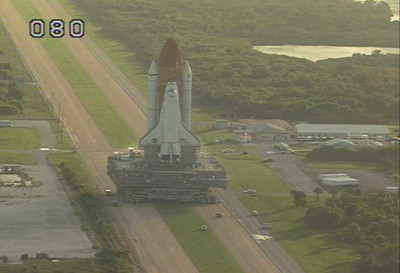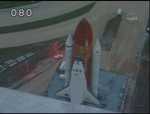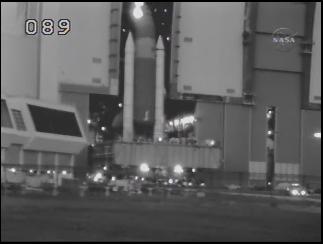 ... Discovery begins rollout at 7am EDT.

This is a major step in space shuttle processing. Discovery has been mated to the tank and external rocket boosters inside the Vehicle Assembly Building, or VAB for short. Now it is time to go the launch pad, where further work will be conducted. Most importantly, the payload will be integrated. Ffor STS-120, this is the International Space Station's (ISS) Harmony module.

The rollout is performed by a gigantic "crawler" which moves the Space Shuttle stack (tank, boosters, orbiter) at a very slow speed to the pad. It is a 3 mile journey and takes around six hours.

The move can not be done if there is bad weather predicted. This is the reason why the rollout had been delayed for some hours. However, the rollout was move ahead of schedule, the current rollout is even a bit before the actual schedule. So far, the target launch date of October, 23rd is still very possible. There is even a day of contingency (spare time) left in the "processing flow" (aka "launch preparations" or "getting it ready" in less technical terms;)).

I will update my blog with additional pictures during the rollout. I also plan to create a short animation of the rollout once it is over (depending on my ability to capture enough images).
Picture Sources: NASA TV, NASA Webcams
Do you like what you read? Then subscribe to my blog by Email!