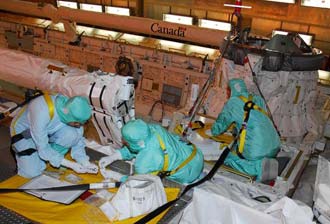 Yesterday, some info leaked that the shuttle ... well, leaked ;) To be serious, there were reports that there is an unacceptable leak at a shuttle strut - hydraulics fluid seems to have been leaking. But yesterday the decision was made that a repair is actually needed.

Of course, it didn't take long for all sorts of rumors to appear. Some sources even said that the October mission would be canceled and moved to January - which is as far from being true as it only can be. In fact, the NASA source quoted above does not outrule there is a change in the launch date, but it is expected to be not a major hit. As far as I understand it, things may be moved a few days at most. There seem to be buffers all along the process, so I do not yet begin to panic ;)

... but I have to admit that this triggers bad memories. As I said, I flew in into Orlando last year to see the STS-115 launch (which I finally didn't make due to its long delay). With STS-115, all the trouble also started with launch delays, that time caused by a lightning strike. That, too, was quite some time before launch, at least if I correctly remember. It was not that early as the current problem, which leaves me with the firm hope that there is enough buffer time available even to launch on the target date of October, 23rd. Let's see...

Photo: In the Orbiter Processing Facility at NASA's Kennedy Space Center, workers secure the tool storage assembly unit into Discovery's payload bay. Photo credit: NASA/Amanda Diller
Do you like what you read? Then subscribe to my blog by Email!