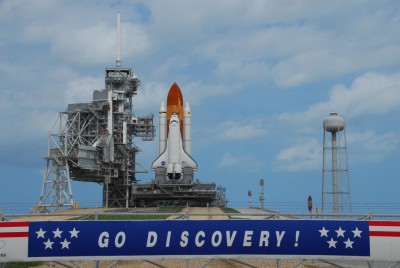 Discovery is "go" for launch on October, 23rd! With great joy and relief, I quote today's NASA shuttle home page (accentuation is mine):

NASA senior managers

Tuesday completed a detailed review of space shuttle Discovery's readiness for flight and

selected Oct. 23 as the official launch date.

Commander Pam Melroy and her six crewmates are scheduled to lift off at 11:38 a.m. EDT on the STS-120 mission to the International Space Station.

Tuesday's meeting included a discussion about concerns raised by the NASA Engineering and Safety Center regarding the reinforced carbon carbon on three of Discovery's wing leading edge panels. This issue initially was brought before the Space Shuttle Program during a two-day, preliminary review held last week to assess preparations for Discovery's mission.

"

After a thorough discussion and review of all current engineering analysis, we have determined that Discovery's panels do not need to be replaced before the mission,

" said Associate Administrator for Space Operations Bill Gerstenmaier.
Believe me, I am
extremely
happy with that decision.
If Discovery had to be rolled back to replace the wing leading edge heat shield, the launch would have been delayed by weeks
, if not month. In that case, I had lost my ability to experience it myself. When there were no news yesterday, I got increasingly excited: if NASA discussed that long, did it indicate a serious problem and a no-go for launch? I was already relieved when there was
unofficial news
that the launch would be as originally scheduled. So I could even go to sleep without having seen the news conference (it simply got too late ...).
The first thing I did this morning was check the NASA site
and the good news finally officially appeared. Man, am I relieved. This late in the process, it would have cost me a bunch of money, as I couldn't have canceled most of the things I had booked (including some hotels). Thankfully, now my trip to Orlando, Titusville and Cocoa Beach is secured.
And -- don't get me wrong:
if there would be a real safety concern for crew and vehicle, I would have been more than happy with a decision to roll back.
I have to admit I have a bit of launch fever, but I can still think of consequences. It is a very good experience to see how NASA handles such cases: any concern can be brought up freely and receives serious consideration. I am sure that the final decision is based on very good data and there is very good reasoning to go for a launch. Thanks guys for your great work!
Do you like what you read? Then subscribe to my blog by Email!