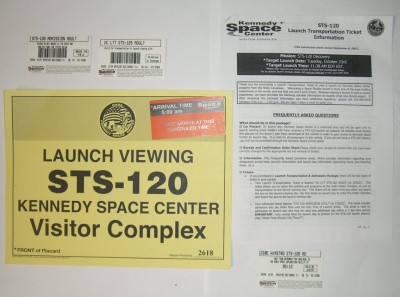 Finally my tickets for launch viewing have arrived! Getting hold of these tickets was quite complicated. I knew when the were offered for sale and I knew what I was heading for -- but tickets sell out very quickly every time.

What you want to get are "launch transportation tickets" or ltt's for short. These allow you onto the NASA causeway where you have an unobstructed view of the launch complex. It is also the closest place you can get to without having a VIP pass (and being German, obtaining a VIP pass is more than problematic - aka "forget about it". US citizens may approach their Senator to obtain them, which is known to work).

I was quick enough to purchase some ltts, but only together with the "breakfast with an astronaut" package. The breakfast is at 5:30am, so this was the least demanded ticket and probably the cause I could get hold of it.

Ever since I purchased them I was eager to get them into my hands. I inquired at Kennedy Space Center when they may be shipped. The answer was October, 8th - and I hoped that they would arrive in time, given that it was international shipment and I intend to leave home on the 19th. The KSC folks assured me that tickets were send via express courier, so there should be no need to worry (besides, of course, the hefty shipping fee).

What should I say - they were absolutely right. Yesterday (!), I received a nice package via UPS containing my full ticket set. That was exactly two days to reach me - well done, folks. I didn't blog yesterday about it because I was so occupied with Discovery's leading edge problem.

I have take a picture of the ticket set, just in case you are interested and have not yet seen any. Click the link to obtain a hires version which will get you the details. There, you'll see the big car placard, which must be placed on your dashboard to gain access to Kennedy Space center. Then, there is a small information page (with the big black bar on it) that covers everything you need to know. And finally, there are three small tickets: one gets you access to KSC at launch day, one is for your breakfast and finally there is the LTT, which gets you to NASA causeway, the public launch viewing spot. And now I have all of them in my hands :).

I am quite happy now: the tickets were more or less the last item on my go/no go list. Also, it again looks like Discovery will launch inside the scheduled launch window. What more can I ask for? Wish me luck that things will remain on this good track ...
Do you like what you read? Then subscribe to my blog by Email!