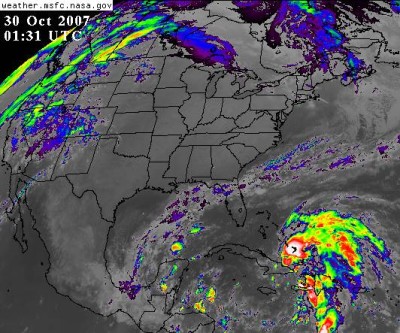 I headed to Seaworld Orlando today in an effort the move away from the effects of tropical storm Noel. Even in Orlando, the morning had lots of rain and high winds. But the day at Seaworld turned out to be a good one. When I came back to Cape Canaveral this evening, I noticed the strong winds (especially on the bridges). I am staying in a beach codo here, and I can really feel the wind on the window (and I have to admit I do not like such weather ;)).

I thought how lucky we were to have Discovery launch last week. Since then, most days had thick cloud cover, definitely a no-go for launch. Only yesterday was quite well, but I am not sure if clouds would still have prevented the launch. And the forecast for the next five days or so is strong winds plus ample of rain due to Noel. The Pic shows its current location, and it is heading to the Florida east cost now. Titusville, Cape Canaveral, Cocoa Beach and Kennedy Space Center are among the most-affected areas.

So in short words, I think if Discovery hadn't launched last week, the launch would probably have been delayed for at least two weeks. That would have brought it close to the end of the launch window and would also have affected, if not prevented, Atlantis' STS-122 launch.

I just can't say how grateful I am everything worked right on the first launch attempt! A bit of luck is quite helpful from time to time... I thought this is worth noting and so I blog it;)
Do you like what you read? Then subscribe to my blog by Email!