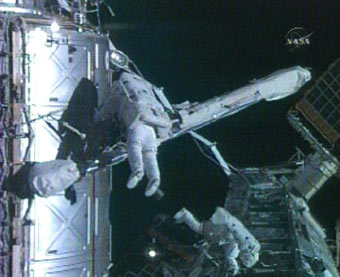 Astronauts Peggy Whitson and Dan Tani conducted a successful spacewalk yesterday. It was the last in a series of important construction space walks which readied the international space station ISS to receive the European Columbus module.

Columbus will be delivered by space shuttle Atlantis' STS-122 mission, set to launch from Kennedy Space Center on December, 6th 2007. As such, success of the spacewalk was also important for STS-122. Without it, a launch would not have been possible.

Now, with the successful spacewalk and everything going very smooth in the processing of Atlantis, it looks like weather is becoming the only constraint for the launch attempt. This is good news, because STS-122 has a very short launch window. It extends for just one week. So there is not much room for delays.

Here is also some more detail information from the NASA homepage:

Spacewalkers Peggy Whitson and Dan Tani completed Saturday's spacewalk at 11:54 a.m. EST. The 7 hour and 4 minute excursion started an hour and 10 minutes early. They completed their main tasks well ahead of the timeline then moved on to perform some get-ahead work.





The two spacewalkers moved the 300-pound, 18.5 foot Loop B fluid tray from the station's main truss to the port side of Destiny and completed fluid and electrical connections.





Tani did an inspection of a Solar Alpha Rotary Joint that had previously shown increased power consumption and vibration while rotating as it followed the Sun. Whitson deployed and mated cables to be used as part of the Station to Shuttle Power Transfer System, or SSPTS. A portable foot restraint was also installed on Node 2 for upcoming spacewalks when the European Columbus laboratory is installed on the STS-122 mission.



If you like even more details, you can find them on an additional NASA page devoted to
Saturday's spacewalk
.
Do you like what you read? Then subscribe to my blog by Email!