I have been to the World Space Expo (WSE) 2007 at Kennedy Space Center today. I just returned back from the evening BBQ event. It was a lot of fun. Among others, John Glenn and Scott Carpenter appeared. But the World Space Expo is a story in itself. What I am now focusing on is the "repair kit" for the ripped ISS solar array.

At WSE, there was a NASA pavilion. It contained a lot of actual space hardware. At some both covering extravehicular activity (EVA) tools, a sample of solar array repair kit could be seen. Of course, it is highly improvised, but it promises to do the job: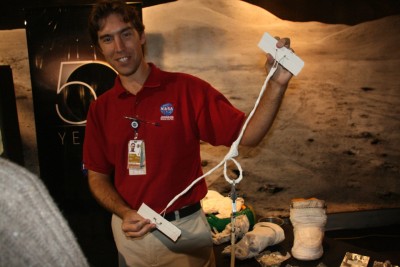 Joe from Johnson Space Center (Houston, Texas) presented it. He said he'd just run into local hardware store to get the necessary parts. When I returned to the hotel, I found this picture on the NASA space shuttle home page: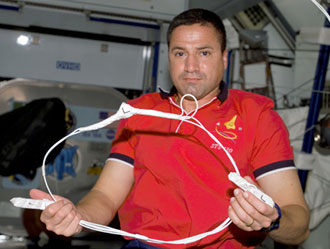 As you can see, there is large similarity between the two. So I guess I saw a live piece of really important space hardware.

BTW: does that look like duct tape? I think so ... On the space station, they use Kapton tape - and I have been told it is the space equivalent of duct tape ;)

So now let's please all cross fingers that the repair goes well on tomorrows spacewalk.

And if you stay in the Orlando and Cocoa area, I recommend you drop in over the weekend to Kennedy Space Center. There is not only the great expo, but an even more promising air show on Saturday and Sunday.
Do you like what you read? Then subscribe to my blog by Email!