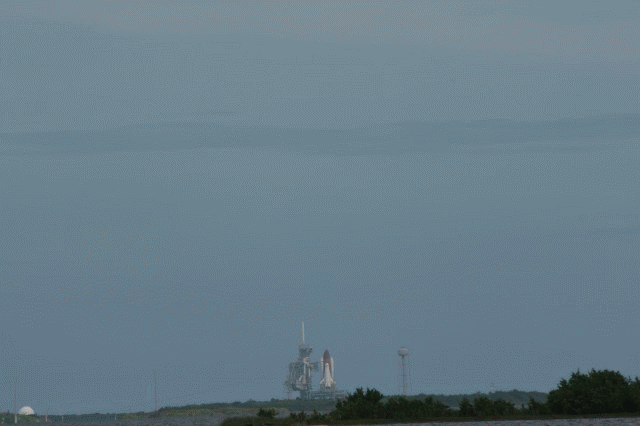 Finally I have a little time to play with my pictures. As a starter, I did an animation of Discovery's STS-120 launch. You can also view a hi-res version. The animation was created from still images I took with my Canon EOS 400D (called "Digital Rebel" in the USA, if I recall correctly). I was at the NASA Causeway viewing site.

The camera was on a tripod, with pre-set exposure and focus and connected to a wire shutter. I kept the shutter pressed until the space shuttle went out of its view. I did not make any attempt to track the shuttle as I was primarily concentrated with viewing, not photography. This setting brought me about three pictures per second. I then used the computer to size them down and a gif animator to do a real animation out of it.

Of course, I could also have taken a video camera, but then I had to concentrate much more on creating the movie. Also, I did not have a sufficiently well video camera, so this was not option at all ;) I also like the shots very much - plus I plan to do a real high res version some time later, which the 8MP pictures clearly enable me to do.

For now, I hope you enjoy this magnificent space launch!
Do you like what you read? Then subscribe to my blog by Email!