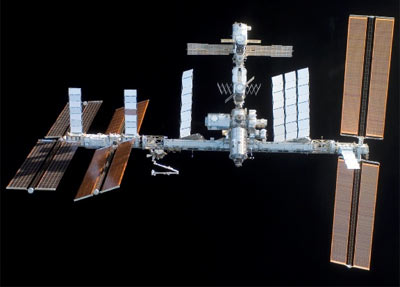 The international space station ISS crew will put the time until the next space shuttle visits the orbiting complex to good use. A spacewalk is scheduled for next Tuesday. It is part of the ongoing troubleshooting of the solar array rotary joint (SARJ) problem problem that troubles the station for some weeks now.

The SARJ issue reduces power generation from the solar array. This is currently no issue, but when more modules are added, it becomes a constraint. The Columbus module, to be delivered by Atlantis whenever STS-122 is ready to launch, can operate with currently available power. However, the Kibo module, rocketed into space with STS-123, will probably exhaust current power availability. As such, it is vital to solve the issue with the rotary joints.



Previous spacewalks found some material on the race ring, a result of abrasion. There is a backup race ring available, but it will not be activated until the root cause of the problem is understood.

And now let me quote the NASA ISS home page:

Station Commander Peggy Whitson and Flight Engineer Dan Tani will perform the 100th spacewalk in support of International Space Station assembly on Tuesday, Dec. 18. The spacewalk will focus on the starboard solar arrays. Whitson and Tani will examine the starboard Solar Alpha Rotary Joint (SARJ) and return a trundle assembly to the station's interior.

Whitson and Tani also will examine the Beta Gimbal Assembly (BGA). It tilts solar wings for optimal power generation. The starboard BGA has been locked since some power feeds to it were interrupted last Saturday.

While spacewalk preparations are under way, the docked Progress 26 cargo ship is being loaded with discarded items and readied for undocking on Dec. 21. Progress 27 will arrive at the station with supplies on Dec. 26.
Do you like what you read? Then subscribe to my blog by Email!