I was very pleased to find a real nice personal report from Bill Rose in my mailbox. Many thanks for it Bill, much appreciated! I hope you all enjoy it as much as I do:

We have long dreamed of seeing a shuttle launch and finally we are trying to do it. We left Philadelphia on Wednesday 5 December. Flights were delayed by a snowstorm. The airport ground crew passed the time by having snowball fights. After additional delay while our plane was de-iced, we finally left the northeastern United States and soon landed in Florida. It was 3 a.m. Thursday when the 5 of us (my wife and I, Grandma, and 2 girls ages 16 and 9) arrived at the hotel. We had phoned for causeway tickets about 20 minutes after they went on sale in October, but they sold out in 15 minutes. We plan to view the launch from Titusville.

We awoke Thursday morning and very soon learned of the fuel sensor problem. Given the past history of ECO sensors, and since two failed, we knew a scrub would occur, and soon it was official. Off we went to Sea World. What a great place! The Shamu show mixed environmentalism, patriotism, Hollywood, Las Vegas... - we loved it! The dolphins, manatees, sea lions and other creatures were a treat to see and, in some cases, touch.

Next launch attempt Saturday. We fly back to Philadelphia on Sunday night.

I hope that Bill and his family will be able to witness a great launch on Saturday! He also proves the point that a shuttle launch is a whole-family event ;) And, as I side-note, I too think that SeaWorld is the next great place to be right after Kennedy Space Center. Let me add one of my pictures to explain it: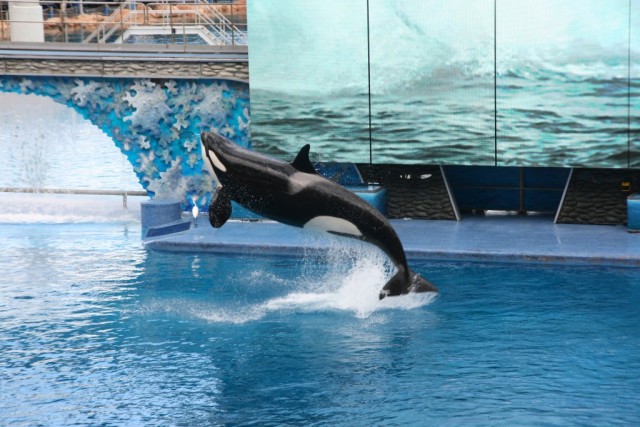 If you yourself have an experience to share, please email me. I'd love to read your stories and share them. Maybe we can even build up a pool of launch viewing experiences!
Do you like what you read? Then subscribe to my blog by Email!