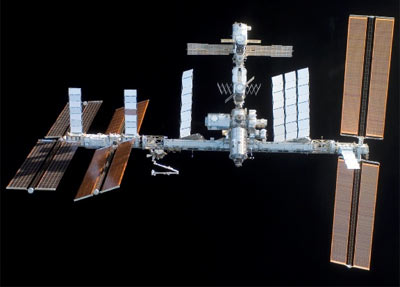 Tomorrow is a busy day for NASA - both on earth as well as in orbit. Seems to be "troubleshooting Tuesday": The international space station crew performs a spacewalk to check out what is wrong with the orbiting laboratory while the ground crew at Kennedy Space Center checks out their supply vessel. Both activities are in support of the international space station program. Let's hope everything turns out well.

But now let me quote a mail that I received from NASA, it is an excellent wrap-up of tomorrow's activities, including ways to experience them first hand:

NASA Television will provide simultaneous live coverage of a spacewalk by the International Space Station crew and a shuttle fueling test at NASA's Kennedy Space Center, Fla., on Tuesday, Dec. 18.

Expedition 16 Station Commander Peggy Whitson and Flight Engineer Dan Tani are set to venture outside the station at about 6 a.m. EST to perform a detailed inspection of a giant rotary joint where contamination was found last month. The joint is used to rotate the starboard solar arrays of the complex to face the sun. The astronauts also will devote part of the spacewalk to an inspection of a device that tilts the starboard arrays toward the sun. The device, known as a Beta Gimbal Assembly, experienced unrelated electrical problems last weekend.

NASA TV's public channel will begin coverage of spacewalk activities at 4:30 a.m. A briefing will follow the spacewalk, originating from NASA's Johnson Space Center, Houston, no earlier than 1:30 p.m.
Reporters will be able to ask questions from participating NASA sites. The briefing participants are:

-- Mike Suffredini, International Space Station Program manager
-- Ginger Kerrick, International Space Station spacewalk flight director
-- Tomas Gonzalez-Torres, International Space Station spacewalk officer

At 7 a.m. EST, Tuesday, NASA TV's media channel will begin coverage of a fueling test of space shuttle Atlantis at Kennedy's Launch Pad 39A. The fueling test will assist engineering efforts to resolve a problem with an engine cutoff sensor system that prevented Atlantis' launch attempts earlier this month. Reporters will be notified of any plans to hold a news briefing following the test's conclusion.

For NASA TV streaming video, schedules, and downlink information,visit:

http://www.nasa.gov/ntv

For more information about the space station and the Expedition 16 crew, visit:

http://www.nasa.gov/station

For more information about space shuttle Atlantis' upcoming STS-122 mission, visit:

http://www.nasa.gov/shuttle


Do you like what you read? Then subscribe to my blog by Email!